News & press releases
CLASS presents its technology at the EUCAD 2019 conference
CLASS was a proud participant of the EUCAD 2019 conference, which took place in Brussels, Belgium, on 2-3 April. Our booth was part of an exhibition of European funded research and innovation projects on cooperative, connected and automated mobility that run during the event.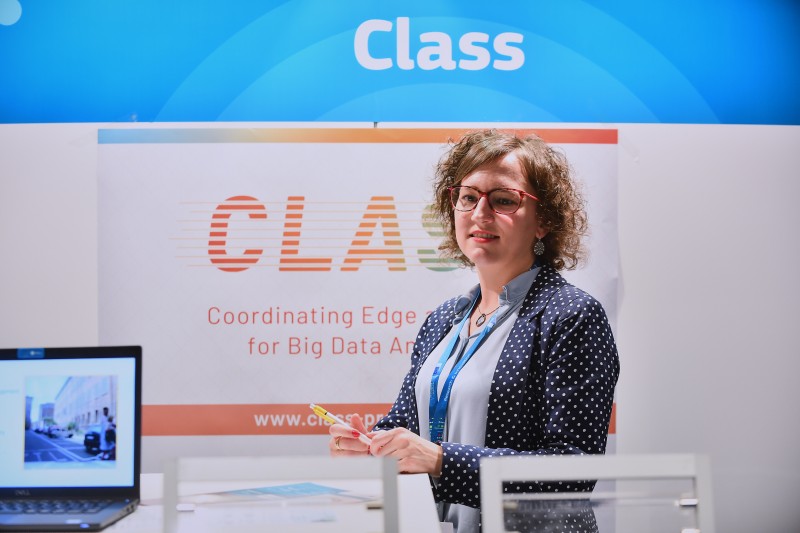 The conference was a great opportunity to showcase the CLASS technology to a high number of visitors, including, among others, representatives from the automotive and telecom industries, road and public transport operators and regulators, as well as research centers, universities and individual researchers. The audience was quite international coming from Europe, the US, Japan, and other non-European countries.
Barcelona Supercomputing Center (BSC) researcher Maria A. Serrano was present at the CLASS booth and informed the visitors about the aim of the project that works towards an efficient distribution of big-data workloads along the compute continuum. The CLASS project attracted the attention of many participants, interested in future collaborations to exploit the CLASS software architecture. "The EUCAD 2019 conference was an exciting event not to be missed. We were pleased to talk about CLASS technology with a diverse audience and also learn about other automated mobility projects at the same exhibition", says Maria.
EUCAD 2019 is the only conference in Europe that brings together political leaders from the European Commission and Member States with high-level representatives of industry and road authorities to discuss all the major challenges related to automated mobility. Under the name 'Connected and Automated Driving (CAD): Europe takes the lead', this year's event was the second European conference on connected and automated driving organised by the European Commission, with the support of the EC-funded project ARCADE.
As stated by the organizers, CAD can contribute significantly to policy goals of bringing down the number of road fatalities, reducing harmful emissions from transport and reducing congestion. At the same time, automated mobility has the potential to strengthen the competitiveness of European industry, create new jobs and boost economic growth. It is the ambition of the European Commission to make Europe a world leader in the deployment of connected and automated mobility.