News & press releases
CLASS participates in Major Cities of Europe 2019 conference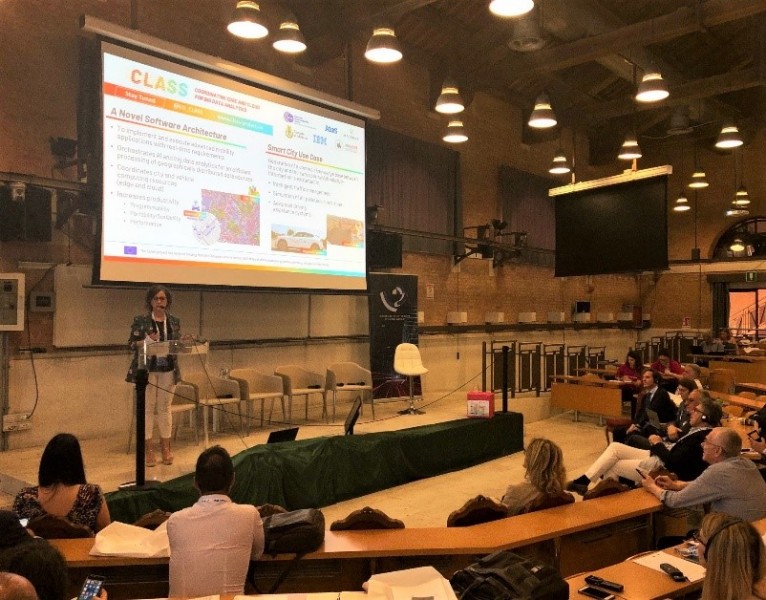 Delegates of the Major Cities of Europe (MCE) network had the opportunity to attend Maria A. Serrano's (BSC) presentation about CLASS technology. This year the annual conference took place on 13-14 June 2019 in Venice, Italy, and Maria talked during the Speed Dating Session in the afternoon of the first day.
Maria Serrano stated that "the conference was a brilliant opportunity not only to present CLASS but also to exchange ideas with other like-minded people and talk over the challenges that other projects similarly face" and went on to say that "it was also great to be able to discuss our project with local governors from European cities and be informed about how citizens are also involved in the digitalization process of European municipalities".
The project's partner Comune di Modena was also present at a stand in the exhibition area of the conference. Attendees had the chance to visit it and learn more about the CLASS project.
This year's annual MCE conference theme was "Channeling Change - Digital cities in a changing world - Explore more, Discover more, Create more". Almost 350 visitors from 20 countries around the world attended the event. The full programme and a list of speakers are available online. The 2020 conference will be hosted by the city of Larissa, Greece, on 27-29 May 2020.